Studio 193 @ Brickyard (3/25)
25 March at 23:00 - 26 March at 07:00
Location: Brickyard 紅磚地窖, 中山二路507號B1 (507 Jongshan 2nd Rd. B1 ), Kaohsiung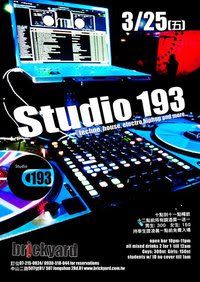 位在台南的dj組合,包括了DJ Scheme-O, DJ Naked, Dj Andy 還有Mic.
從他們的混音作品就聽的出來不同一般.練家子的紮實基本功,從嘻哈一路到浩室,電子, breakbeat, 讓人心跳亂三拍的鼓打貝斯及紅磚人為之瘋狂的Dubstep...十八般武藝樣樣精通,唱盤,mixer,電腦,通通都給他們玩到淋漓盡致.愛跳舞的人跳到噴汗,絕無冷場,認真聽音樂的人總是告訴我..."天啊.他們放得真棒..." 在經過幾次的觀眾要求以後,今天這場趴替,我們決定大大的主打他們.這麼好跳舞的音樂,今天你就可以聽到!!!

男生:300 女生: 150 票價含一杯飲料及十點到十一點的暢飲
學生憑證一點之前免費入場
...九點到十二點所有調酒買一送一
十二點前雞翅一支只要15元 吃飽跳舞比較兇啊!
訂位: 07-215-0024/0930-518-044

Studio 193 Taiwan aims to promote high quality, open-minded and freedom-expressing parties!
That´s right. You will hear all kinds of music at this party. House, Techno, Electro, Turntablism, Breaks, DnB, Dub-Step, Underground Hip Hop... Old-School, Nu-school .... They can do it all and they do it well. If you really love dancing, check out Studio 193. If you really love DJs, check out Studio 193. FUN GUARANTEED!!!

Guys: 300 Girls: 150
(Tickets include 1 free drink and 10pm-11pm open bar.)
2 for 1 mixed drinks till 12am
Students with ID can come in for free before 1am.
NT15 fat wings till 12am!!!

Facebook:
http://www.facebook.com/home.php#!/even ... 5773450321