Something for those of you down South: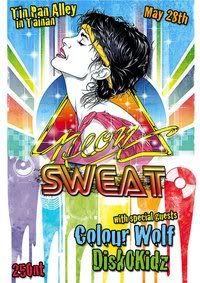 Colour Wolf Presents ... NEON SWEAT 6/25 @ Tin Pan Alley, Tainan
Time: 25 June at 22:00 - 26 June at 05:00
Location: Tin pan alley, 台南市東區北門路二段28號, Tainan
More info:
Colour Wolf Productions and Tin Pan Alley present ...

! ! ! ! ! ! ! NEON SWEAT ! ! ! ! ! ! !

Colour Wolf Productions is pleased to bring it's brand of dirty dirty disco dance parties to 台南 for the first time! Local favorite Disk0kidz a.k.a. Freaky Squeaker and TaiChung's Colour Wolf, will help you stretch your glutes, blast your core, and work up a sweat on the dance floor. Work out to an amazing arra...y of Indie Electro and Neu Disco!

When?

Saturday June 25th

Where?

Tin Pan Alley, Tainan
台南市東區北門路二段28號

Who?

Colour Wolf :

Do you like disco? Do you like dancing? Do you like wolf diapers? Then you'll love Colour Wolf aka Jimmy Jones. Colour Wolf is TaiChung's best semi-naked DJ and he is coming to Tin Pan Alley to rock your socks off.

Diskokidz:

Deeply influenced and inspired by artists such as Armand Van Helden / Donna Summer / DJ Falcon / Daft Punk / Cassius / Breakbot / Siriusmo / Chromeo / Le Knight Club /
Justice etc., Diskokidz delivers the hot grooving tunes with funky retro sound and sexy rhythm to the crowd on the dancefloor.

Based on French Electro / Disco House, Diskokidz now blends in the essence of 70's funk/80's disco/90's pop and fuses with the futuristic Nu-Disco to express the whole new
concept of electronic dance music.

Recently Diskokidz collaborated with Canadian Nu-Disco star NinetyniNe to make a re-edit version of their new single "Revenge" and will be released under Dga Fau Records
in March 2011

Follow Diskokidz and you'll personally experience the sweet trendy party atmosphere with his amazing beats !!! NOT TO BE MISSED !!!


How Much?

$250nt

Why?

Because it's gonna be awesome.
Facebook page:
http://www.facebook.com/mobileprotection#!/event.php?eid=191560634223844