Released today,
Through Formosa
is a fascinating and unexpectedly funny account of Taiwan under Japanese rule, written by the prolific Owen Rutter. Formerly a British colonial officer in Borneo, Rutter and his wife were guests of the Japanese government, but despite their tightly plotted itinerary showcasing the best of the island, Rutter is not shy of criticizing his hosts where he feels it appropriate. But this is balanced with praise for certain aspects of Japanese culture, including aesthetic sensibilities and work ethic.
One custom he finds peculiar is the constant exchange of calling cards, outlined in a passage that could almost have been written yesterday rather than nearly a century ago:
The card ceremonial is a strange example of how a Western social custom can be adopted and intensified by an Eastern nation; but, when one comes to think of it, the whole thing is extremely sensible. As a rule Americans seldom forget names when they are introduced. They seem to have a simple method of memorizing them by repetition. They just say "Glad to know you, Mr. Snooks," and they have got Mr. Snooks in a pigeon-hole of their mind for all time. With the English it is different. To begin with, no Englishman ever listens when he is being introduced. Even if he did he would listen in vain, because the introducer usually forgets at least one of the names at the critical moment, or, if he happens to remember, gives them in an inaudible mumble. Unlike the American, who makes no bones about it, the Englishman is too shy to ask his new acquaintance to repeat his name. On the rare occasion when he might hear it he is too busy criticizing the owner's personal appearance, and when he begins to grope for it in his mind the name is gone. More often still he really doesn't care a hoot what the other fellow's name is, and if, later, he wants to attract his attention, he does so by saying 'Er.'
Rutter is particularly interested in Japanese treatment of the Aborigines, and spends a good portion of the book on his travels to the edge of 'savage' territory. Here his sympathies lie firmly with the Aborigines, and he is progressive (for his day) in arguing that they should be left to retain their customs and self-government.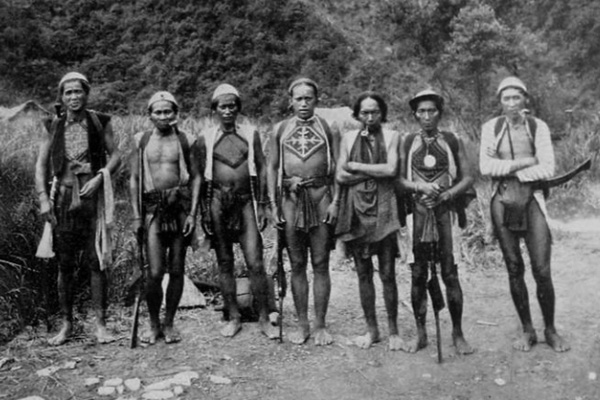 Through Formosa
is available today for NT$120
from the Camphor Press website
, for Kindle, PC, Mac, iPad, and a host of other e-readers, smartphones, and tablets.