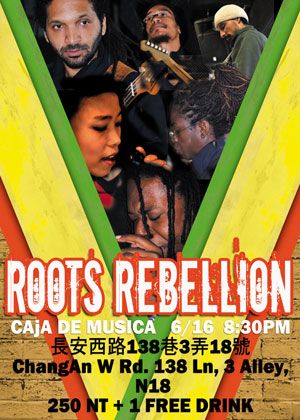 http://www.islandjam-music.com
La Caja De Musica
Date:
June 16th - Time: 20:30Live:
Islandjam presents ROOTS REBELLION @ La Caja De Musica
DOOR :250nt + 1 free drink
Adress: Chang An west Rd. 138 Lane, 3 Alley, N18
地址: 長安西路138巷3弄18號
MAP
:http://maps.google.co.uk/maps/ms?ie=UTF8&oe=UTF8&msa=0&msid=203292401227161185863.0004a430a0ddf4ff635aa
<< Band: Roots Rebellion>>
KEYBOARD Athenee [Belize]
DRUM : Lion [Jamaica]
BASS : Taili [France]
GUITAR Emilio Jose Del Pozo [California]
VOCAL: Sunny Smalls [Taiwan]
VOCAL: Sherwyne Splenda [Trinidad]
Roots Rebellion performs all original reggae songs , many of which were written during studio jam sessions ., The lead voice is Sherwyne Splenda of Trinidad, a charismatic singer with impressive range and style. Splenda is also an experienced performer who has toured Asia and the Caribbean for many years.
The band also has a local touch in singer Sunny Smalls, a Tainan native who often performs at Black Reign's dancehall parties and has a unique, bluesy feel to her reggae vibes that is not often heard in Taiwan. She shares the vocal duties with Splenda and sings in Hoklo (commonly known as Taiwanese), Chinese and English.
Check out more on the band at/
http://www.facebook.com/rootsrebellion