I was in the market for a Windows tablet and I was looking for:
2in1 with detachable keyboard
Any Atom CPU, possibly the z3775
2gb ram
any storage + SD/microSD
full hd screen (1920*1080)
I spent a bit of time checking all the current offers from Acer, Asus, Lenovo etc, and I hadn't managed to find a 2in1 tablet that I really liked AND that was affordable. Most models below 10000nt had low resolution and/or bad screen quality, and to get something decent I was looking at 15000+nt, which is a bit too much for a tablet.
Then I just randomly happened to find an ad regarding Chuqi tablets, here's a link to the model that I got:
http://goods.ruten.com.tw/item/show?21553510320221
Review from techradar:
http://www.techradar.com/reviews/pc-mac ... 022/review
Watching Battleship, because why not?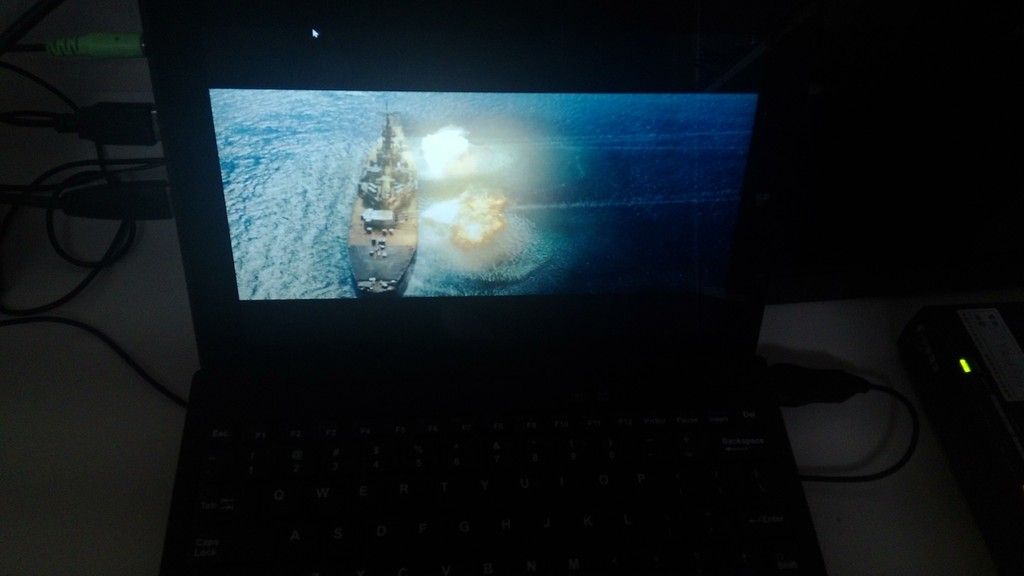 I went personally to the Taipei store in Banqiao from Ruten because I wanted to check the quality of the tablet. I've found some good reviews online from Taiwan, but seeing is believing. The review from Techradar is spot on, here's what I can add:
Pros:
The screen is insane. Under 7000nt for fullHD (actually better than that, 1920*1200) and IPS? I could hardly believe it, watching any sort of fullHD content or light gaming is a joy, and the viewing angles are great. The touchscreen works fine as well.
Hardware wise, the newer z8300 performs similarly to the z3775 but consumes less power and has much better GPU performance, allowing for some light gaming. 4gb of ram are a massive improvement over all the other tablets that only have 2gb.
Good storage, 64gb + microSD slot is not bad at all. I plan to install a few games on the main storage (Hearthstone + some of my lighter games from Steam), Canon DPP and some essential software, then place all music, videos and photos on the microSD.
The keyboard has a nice clicky feeling and all keys have enough distance between them. It has an extra USB slot, ideally for a mouse when at home (more on this later). The locking mechanism feels very solid.
The whole system (tablet + keyboard) is very light.
The tablet has 1x USB, 1x USB 3.0, microHDMI, mini-USB, microSD 3.5mm audio jack. When used at home along with the keyboard, 3 USB slots allow using an external HD, a mouse, another USB device and a set of speakers, as well as an external monitor/tv.
The price is 1/3rd of similar offers from other makers.
They gave me the tablet cover for free, made from the same company that produces the tablet and in a nice dark grey color.
Cons:
The trackpad is the antichrist. It's literally one of the worst things that I've ever used. I'm glad for the USB slot in the keyboard, so that I can keep a mouse plugged in when I use the tablet at home.
Battery life is not amazing. The keyboard is not a battery dock, it's just a keyboard so it will not increase the battery life like some Asus/Acer models do. The upside is that it's much lighter and can be charged with a basic USB cable, no need to carry an AC adapter.
Speakers are not particularly good. It's a minor problem for me because at home I have a ton of speakers, headphones, earphones etc, but it's something to keep in mind.
The USB cable included in the box is REALLY short. With the tablet on my desk I cannot plug it directly to the UPS unit RIGHT BELOW the desk. I'll have to buy a longer cable next time I pass by Sunfar.
Out of the box, Chinese was the only language available. I had to manually navigate through menus, download the English language pack and now it's usable even for a Waiguoren who can speak Chinese but struggles at reading.
The official keyboard is not included, I had to buy it separately. A regular USB or bluetooth keyboard could be used, but I liked the sturdy feeling of the docking mechanism and the keys, so I decided to buy the regular one.
All in all, if you're in the market for this same kind of tablet I can definitely reccommend it. Unless super long battery life and a usable trackpad are a must, it's hard to find anything better than this at a similar price. It has 1 year warranty too, which is not bad.
On Ruten I noticed that it's possible to buy it from Taipei (in Banqiao, the store that I linked at the beginning of the post) and in Kaohsiung. I'd suggest to visit them to check if you like the handling of the tablet. On the Ruten page of the store in Taipei you can find their address, phone number and Line contacts.