the chief wrote:You fuckin namby pamby city kids.

A. Nobody said the girl wouldn't

also

be in a world of shit.

and

2. You're tellin me that if you caught your girlfriend (pretend it's pre-

Mrs. Jablowme

) (oh yeah, and pretend you actually had a girlfriend before

Mrs. Jablowme

) flagrenting in the delecto with some...

defenseman

(to add insult to injury), you'd just tell him, "Hey, nice work, see you around, bub."???

Come on, man....I might have been born at night, but I wasn't fuckin born

last

night...
City kid? If I had been, there wouldn't have been so much pig shit in the air.
Your metaphor's all messed up.
It's road hockey.
She's the goalie.
There's a bunch of other goalies and nets.
There's no teams, no wing-men. Just a bunch of puckheads looking to score.
When the ball bounces your way, you take a shot.
If you want to stand in the crease and play defense, great. Just don't go looking to score elsewhere.
And if some guy is bearing down on 'your' net wearing one of these...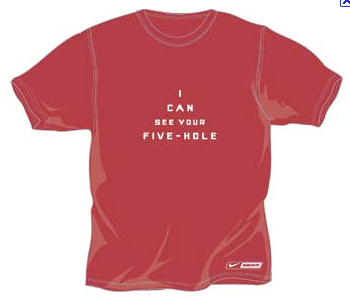 ...have a talk with your tender. Cause if your goalie's worth laying down in front of a slap shot for, that guy isn't likely the only boner out there looking to play deke and hide the puck. But sticking the guy after the goalie passes him the puck and flashes the red light to guide him in??? That's offside.